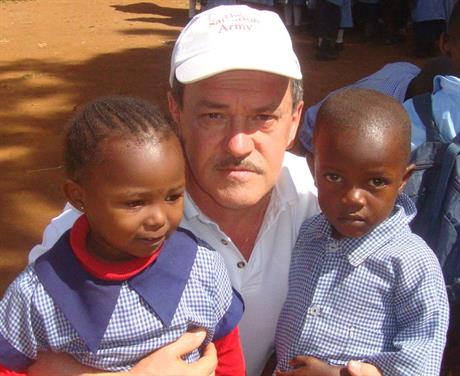 Right now we ar two "happy and a little adventorous" 70+ who have felt like "Backpackers" more than once.
We are both grown up within The Salvation Army in Jönköping and have been members of different groups. We have been married since 1971 and have 2 wonderful children & 5 if possible even more wonderful grandchildren.
Before doing any more "adventurous trips" we had reached a "mature" age and mostly we travelled together with Caisa & Uno (= Ninnis sister and her husband).
We think that we may say that it´s thank´s to or owing to this "Backpacker life" that our great adventure started. You can read more about that on "Background" with start 2010.
A feeling that strong that we got a misson / comission we didn´t thought might be possible. Ulf who through both his daylie job and his position in the Corps band was used to speak in front of people was completely mentally blocked. When he was going to make a presentation of us he couldn´t say a word - tears came in his eyes. Letting his "ego" flow away like this perhaps made the mission that clear.
Every day since 2010 September 28 our friends have been in our thoughts and in our prayers. We do hope that you, who are reading these pages, also may feel that everything is possible.
Please remember that NOBODY CAN HELP EVERYBODY, BUT EVERYBODY CAN HELP SOMEBODY. If you want to help us helping the children in Kibera we will be very thankful.
Ninni & Ulf